Olympic medalist JR Celski marries short track coach Andrea Do-Duc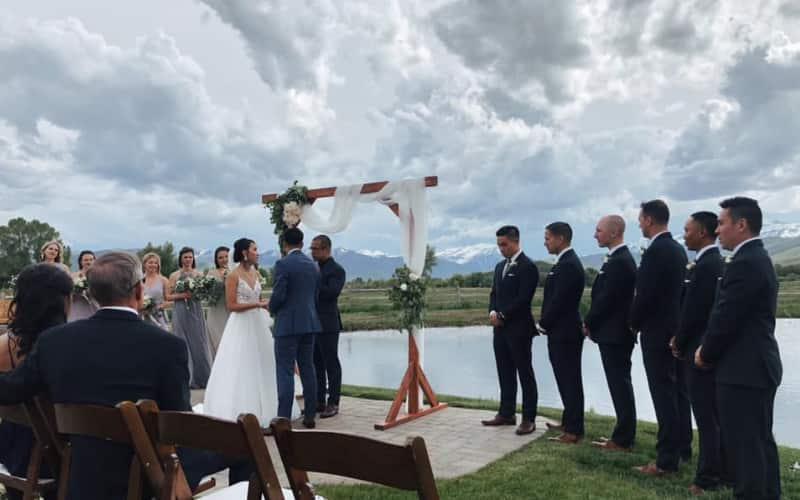 J.R. Celski and Andrea Do-Duc on their wedding day, June 1, 2019 (Photo courtesy of Jae Jae Yoo)
Elite athletes can't find anyone who understands their life better than fellow athletes, and in J.R. Celski's case, he also found a soulmate.
The three-time Olympic medalist married his girlfriend, former Canadian short tracker Andrea Do-Duc, Saturday outside Salt Lake City. A native of Federal Way, Washington, Celski made Salt Lake City his training home before announcing his retirement from competitive speed skating in November. The couple still lives there where Do-Duc is an assistant short track coach to the National Team.
Download the Team USA app today to keep up with gymnastics and all your favorite sports, plus access to videos, Olympic and Paralympic team bios, and more.
The couple got engaged in 2016, which Celski spoke about to TeamUSA.org in September of that year.
"The biggest thing for me is that she calls me on my BS," Celski said. "That's great to have that honesty. You need that, especially with what I'm doing, I'm going in circles every day. I can't take myself too seriously, and when I do, I appreciate that call out."
Celski, 28, made his Olympic debut in 2010, bringing home bronze medals in the 1500-meter and 5000-meter relay, upgrading to a silver medal in the latter four years on in Sochi. He won three world championship gold medals and 11 medals overall. In his career he held five world or junior world records, and was the first person to break the 40-second barrier in the 500-meter in 2012.
Todd Kortemeier is a sportswriter, editor and children's book author from Minneapolis. He is a contributor to TeamUSA.org on behalf of Red Line Editorial, Inc.