Juniors Thrive at US Long Track Speedskating Championships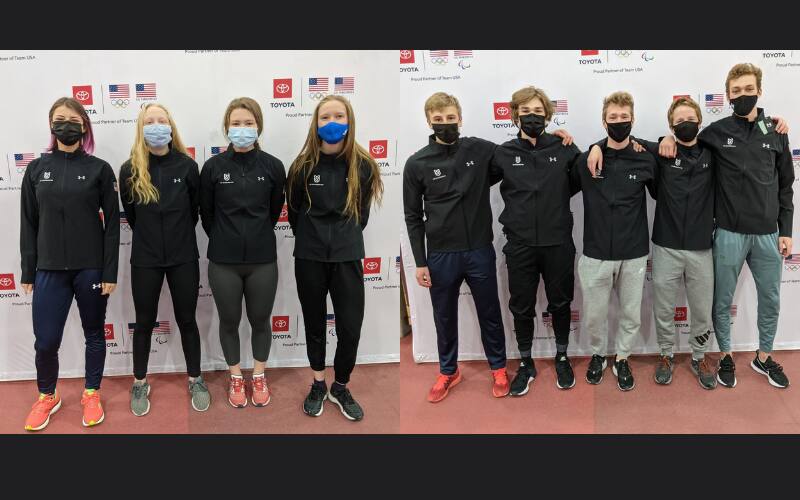 Pictured L to R: Abigail Sorenson, Lindsey Woodbury, Piper Yde, Thalia Staehle, Jordan Stoltz, Jonathan Tobon, Cooper McLeod. Dylan Woodbury, Auggie Herman. *Not pictured, Greta Meyers.
The weekend was a huge success, with three National Junior Records set and over 50 new personal and season best times established.

The competition opened on Friday, March 5, and was highlighted by 16-year-old
Jordan Stolz
(Milwaukee, Wisc.), setting a National Junior Record and new personal best en route to being named Men's 500m U.S. Champion with a time of (34,99).

The record he broke was his own, set just last week. "I slipped in a turn in that race and really wanted to skate under 35.0," Stolz noted.

Stolz's coach, Bob Corby, was not surprised by his performance.
"[Jordan] has trained really hard all year and continued to lower his times, so we expected to go really fast in Salt Lake because it is such a great track. He is a really hard worker!"

Juniors
Cooper McLeod
(Kirkland, Wash.) and
Jonathan Tobon
(Milwaukee, Wisc.) also placed in the top ten in Friday's race, finishing fourth and ninth respectively.

Stolz's record didn't hold for long, however, as on Sunday, McLeod set a new National Junior Record for the Men's 500m with a time of (34.90), finishing second in the second Men's 500m race. Stolz finished just behind McLeod with a time of (35,07) and Tobon finished in tenth place with a new personal and season best time of (36:50).
"I think this weekend was a great opportunity for a lot of the skaters in the U.S. to get together to compete with no complications,"
said McLeod, referring to the challenges this season presented due to the global pandemic.



"It was especially nice to see some people from other ovals across the country come out here to switch up some of the faces we all see daily."
"Despite the various setbacks that I've had throughout this season, I feel confident with the progress that I have made. I'm glad that I had the chance to end the season strong. I feel motivated and excited to work hard in anticipation of the upcoming season," Tobon said.

Stolz also set a National Junior Record on Saturday in the Men's 1000m, where he came in third place with a time of (1:08:57). McLeod and Tobon both set personal and season bests in that race as well, finishing in fifth and ninth place, respectively. In addition, McLeod also set a new personal and season best in the second Men's 1000m race on Sunday, finishing fourth with a time of (1.08,76).

Tobon,
Dylan Woodbury
(Salt Lake City, UT),
Auggie Herman
(Forest Lake, MN) and
Ian Frederick
(Bluffdale, UT) all finished in the top ten in the Men's 5000m, coming in 7-10th place respectively. Woodbury also set personal and season bests in the 10000m event with a time of (15.02,16).

On the Women's side,
Giorgia Birkeland
(White Bear Lake, MN) won the title of Mass Start Women's US Champion. She also placed fifth in the Women's 3000m with a season best time of (4.26,02) and established a new personal and season best time in the Women's 5000m (7.46,00)
Greta Myers
(Minneapolis, MN) finished 8th in the Women's 500m and sixth in both the 1500m and 3000m, setting new personal and season bests in both of those events; she also set new personal and season best times in the second 500m and 1000m races of the weekend.
"I felt like I had a solid weekend of racing and finished the season feeling strong with new personal bests. Disqualification was disappointing, but drove me to have a even better 1000m the next day. This competition was a great end of the season for me, and I felt like it brought everyone together in a really positive way."

Finally,
Piper Yde
(Milwaukee,WI) set four personal and season bests in both 500m races, as well as the 1000m and 1500m. In addition, she finished in the top 10 in both the 1000m (8th) and second 500m races (10th).
Kyle Blood, Jia Griffiths Milan Jostes, Keith Keovan, William Silk, Thalia Staehle
(Seattle, Wash.), and
Lindsey Woodbury
(Salt Lake City, UT) also had standout personal performances to close out the year.

Due to the global pandemic, the 2021 ISU Jr. World Championships were cancelled so the Long Track Championships provided a valuable opportunity for the juniors to compete at a high level.
"The fact that these athletes were able to test themselves and wrap up the year on a high note, as well as give some of the juniors some recognition was a great thing,"
said Matt Kooreman, US Long Track Program Director.
"The junior skaters had an especially tough season dealing with new schooling and social challenges that COVID-19 presented. Losing the chance to travel and compete at the Junior World Championships brought more mental struggles to work through. We took quite a few detours in training this season, but the skaters refocused and improved,"
said FAST Team Coach Mitch Whitmore.
"This weekend was an incredible showing by our junior skaters. They put up some historic times that look very promising for the future of speed skating in the US."


Click
here
for the weekend results.