Rodriguez and Marchese become the newest Hall of Fame inductees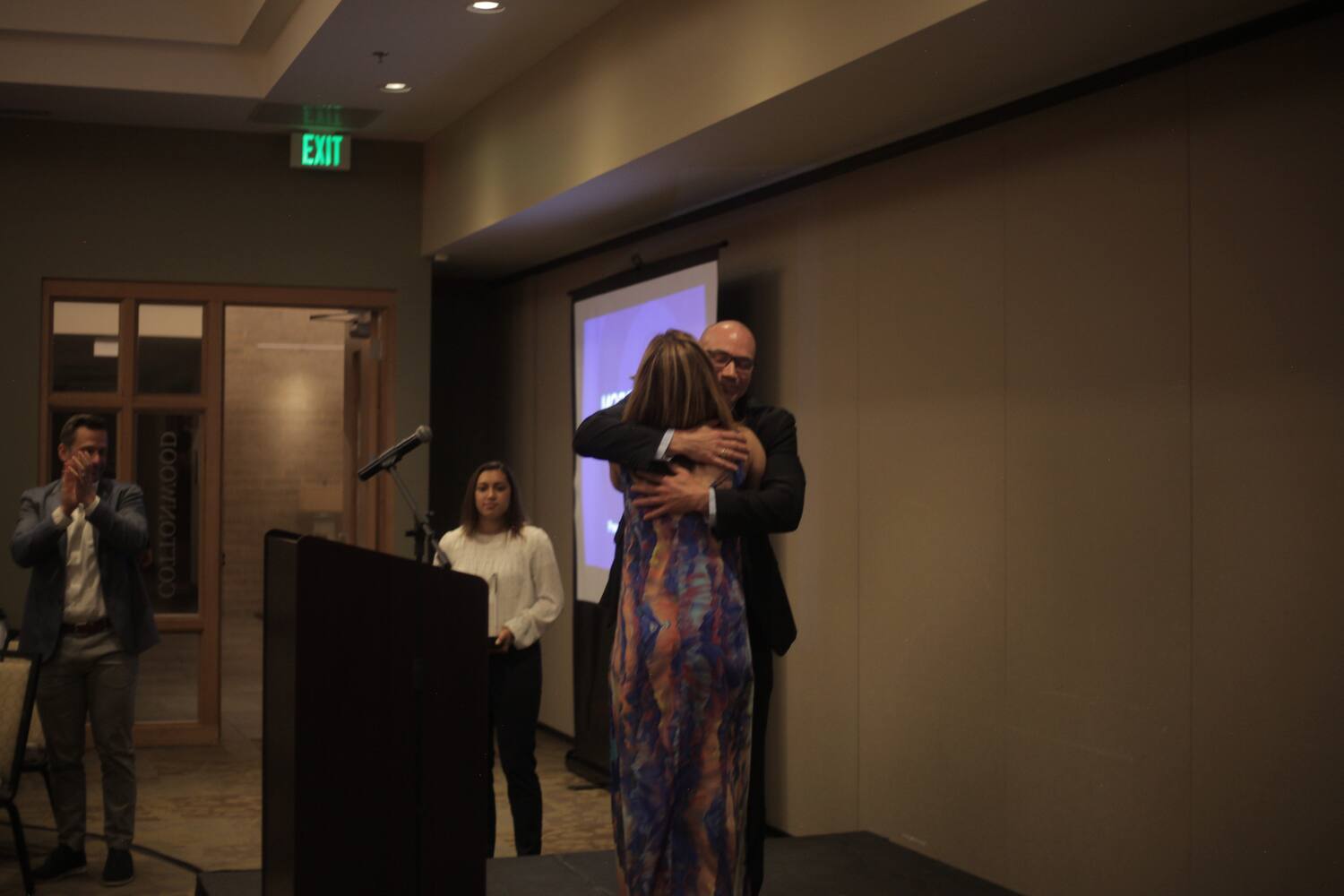 Jen and Tom Cushman
It was a packed house at the Cottonwood Country Club in Salt Lake City, Utah, as US Speedskating hosted the 2019 Hall of Fame Awards Dinner, Friday, June 7.
Two-time Olympic bronze medalist and four-time Olympian, Jen Rodriguez (Miami, Fla.), was inducted into the National Speedskating Hall of Fame and honored by her long-time coach Tom Cushman. "Jen demonstrates that to become, not just a great athlete, but a great champion, it takes character," he said.
Rodriguez, who works as an orthopedic surgery physician assistant at St. Agnes Hospital in Baltimore, took time to recognize all the people who supported her through her journey, from roller skating to the Olympic podium. She especially wanted to thank her mother, who passed away 10 years ago.
"My family has gone above and beyond," she said. "My mom was my best friend. She was the strongest person I've ever met."
Rodriguez credited her ex-husband, Olympic skater KC Boutiette, for opening the door for inline skaters to transition to ice and become Olympians, and she recognized co-inductee Paul Marchese (Albany, NY), long-time coach and speedskating boot maker, for his contributions to her career. "Paul, I skated on your boots. I wouldn't be up here without your boots."
Marchese was inducted into the hall of fame as a speedskating Contributor to the Sport. He has coached many Olympians over the years and created Marchese custom boots for more than 30 years. Marchese Racing has become synonymous with success.
Other awards from the evening included the Eric Heiden Award, presented by the five-time Olympic gold medalist to Olympic bronze medalist and world record holder, Brittany Bowe (Ocala, Fla.).
US Speedskating President Mark Carleton presented the 2019 President's Award to speedskating announcer and stats aggregator, John McClennan.
"Whether it's calling race action at events or creating access to the biggest speedskating results site in the world, John McClennan has changed our sport for the better," Carleton said. "John is a great example of what volunteerism means in a sport like speed skating."
Other awards were presented as follows:
Volunteer Coach of the Year—Shannon Holmes

Development Coach of the Year—Hongyang Wang

Doc Counsilman Award—Ingmar Jungnickel

AAC Dedication to Sport—Olu Sijuwade

George Howie Award—Paul Stangl and Bill Markland (posthumous)
Also, for the first time during this event, retiring elite speedskaters were recognized for their success in the sport. Recipients must have competed on a recent world championship team or the 2018 Olympic team. Retiring athletes are Jessica Kooreman, Brian Hansen, Chris Creveling, Jonathan Garcia, Jeffery Swider-Peltz, Jerica Tandiman, Lana Gehring, J.R. Celski, Katherine Reutter-Adamek, Mitch Whitmore, Keith Carroll and Carlijn Schoutens.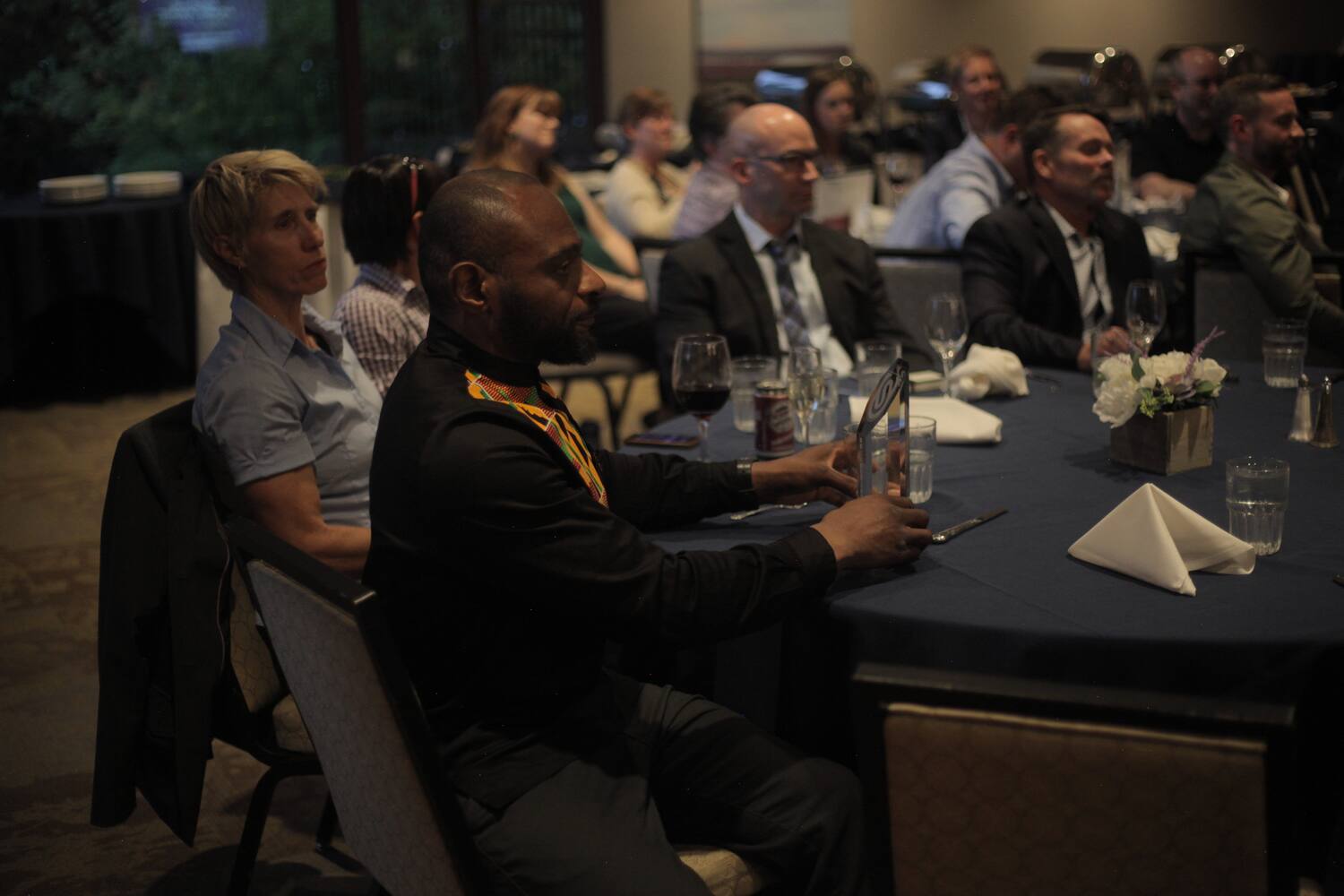 Olu with his AAC Dedication to Sport Award
Follow this link for more information about the National Speedskating Hall of Fame.
More images from the 2019 Hall of Fame (courtesy of Jae Jae Yoo)