25 Laps with Father Rick Swanson
Rick Swanson grew up in a hockey household - his dad played center for the University of Minnesota Gophers with Herbie Brooks as his right wingman, his mom was a PE teacher and a member of the women's hockey group that led to the formation of girls and women's hockey in the state of Minnesota. His brother was a standout high school hockey player. Rick, however, after playing three years of hockey starting in kindergarten, got bored and tried other winter sports until his dad and mom signed him up for speedskating in 4th grade. He spent the next 11 years in the sport, training and competing for four years on the US Men's National Team, and three years in the US Junior development program. He earned a spot on the 1990 Jr. World Team and competed in Obihiro, Japan.

After he hung up the skates in 1991, he spent ten years in college, earning a bachelor's and a master's degree before he was ordained a priest in The Episcopal Church. Currently, he serves St. John's in the Mountain Episcopal Church in Stowe, VT, and is known as "Father Rick." Rick married Tim Heath-Swanson in 2012 and together they own and operate The Swanson Inn, a seven-room bed and breakfast in Waitsfield, VT.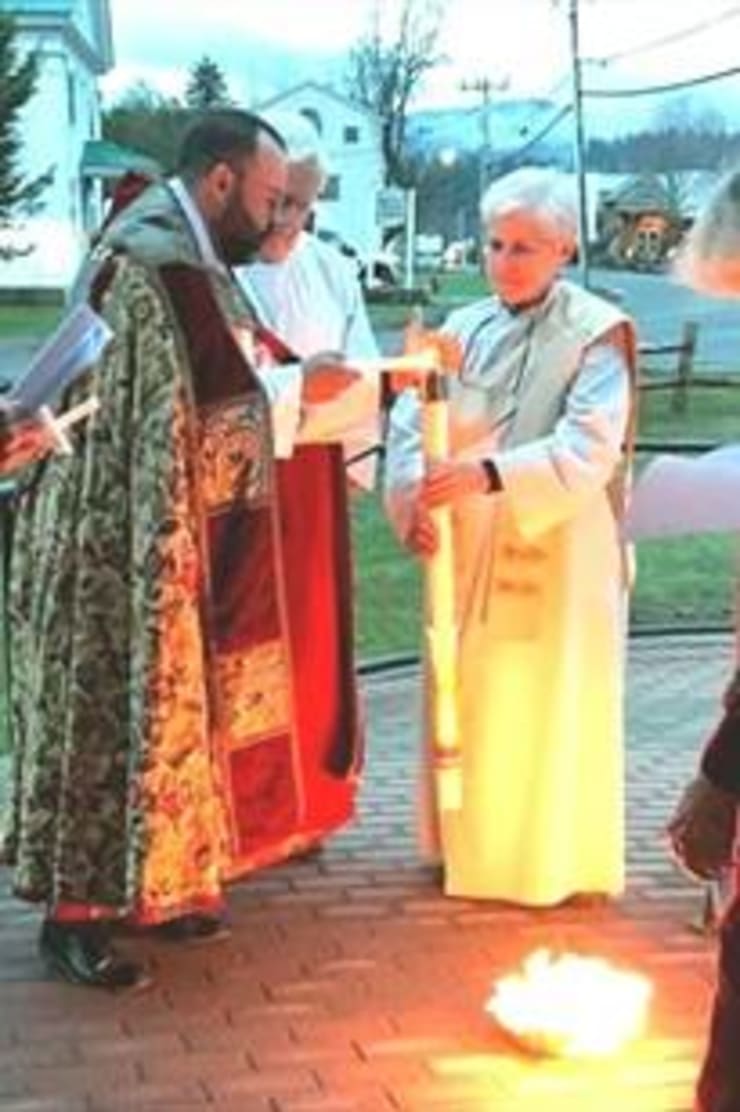 We caught up with Father Rick recently for a few laps. Let's start off with some background info.
Full name?
Richard (Rick) Swanson
Where are you from? Where do you reside now?
I'm originally from Shoreview, MN and I now reside in Waitsfield, VT.
When did you start skating (Father) Rick? Retire/Finish? or do you feel you'll always be skating/a skater?
I began skating at about 2 years old. Mom and Dad put me on skates that winter, as we lived on a lake. I retired from competition after the 1990-91 season. After taking two years off the ice, I started playing hockey when I moved to Los Angeles. I continue skating through playing hockey and hope to skate until I die!
So did you begin your skating career with a club?
I began skating with a novice organization in Shoreview called the Shoreview Youth Recreation Club. We competed in Roseville and White Bear lake. I was about 10 years old when I first put on speed skates (I played hockey before that). Then when I was about 12 (about 1982) I started skating with the St. Paul East Side Speed Skating Club. I began skating with the US Junior program during the 1988 and 1989 season.
Let's talk a bit about your skating experience…
Why did you start/keep skating?
Well, my father wasn't going to let me sit around the house all winter long! Once I began speedskating, I immediately fell in love with skating. It was the Heiden era, and that's when my dreams took off.
Did you have any nicknames when you skated?
I was affectionately known as "The Ricker". That was about the only one.
What do you consider your greatest skating accomplishments?
I was never atop the podium, however, my greatest accomplishment was qualifying for the 1988 Olympic Trials while I was a junior in high school.
Who were your coaches/mentors in skating?
Dianne Wynn White was my coach and a mentor while competing with the East Side Club. Other coaches I worked with included Mike Crowe, Susan Sandvig-Shobe, and Stan Klotkowski.
Do you have a particular place or favorite track/rink to skate?
Well, in those days the US had Lake Placid, Milwaukee and Butte. And Canada had Winnipeg (outdoor) and Calgary. Probably my most memorable competitions were from the old Olympic Rink in West Allis (when it was an artificial outdoor track), but my best races and competitions were probably in Calgary. And I'd have to say Davos was great as I have an affinity for natural and outdoor ice and it was fun to skate there – so many stories and legends from that track, it was fun to experience it.
Did you have a favorite place or somewhere memorable where you trained?
Every hill I could ever find was memorable! I loved to run hills in Colorado Springs, Butte, and St. Paul, MN. Anywhere really. Every time I go to a stadium, I think about how we ran stairs ad naseam. I still love to run up hills.
What was happening on the music scene when you were skating?
I didn't really listen to music much. I couldn't really tell you a movie, TV show, or anything about pop culture at that time! I preferred to read. Some of my teammates kind of razzed me about my dichotomous focus, which was pretty much divided between skating and the church. Away from the rink, I spent a lot of time with my youth group but that's what I loved and that's what I enjoyed!
What do you remember about your best race ever?
It was a 1500m in Butte, MT. in January of 1990. It would have been the first race of the second day of a Jr. Long Track Trials, and it was the best race of my life. The time was 2:02.04, which isn't really that fast, but I raced that race very well. It's one that I received the most compliments from the broadest group of my teammates, and it was memorable for me. It also put me into first place in the Jr. Team Trials going into the 5000m. Ultimately, I ended up losing the Jr. Championship by .01, but my 1500m put me in close contention going into that last race.
What other sports did/do you do/participate in?
I ran track (the 200m, 400m and the relays) and cross-country in high school. Not many other sports than that. Today, I play rec league hockey.
Did you pursue any education after skating? What field?
Well, I pursued three degrees. I began with 2 years at the University of Montana, Missoula. Then I transferred to California State University, Northridge and received a BA with honors in Deaf Studies and with a sub-focus in Kinesiology in order to become a primary education PE teacher. I then pursued and achieved a Master of Divinity, which is the required degree for an ordained minister in most Protestant denominations. I received a Doctor of Ministry, with an emphasis in preaching in 2019.
What do you do now for work?
I have served four Episcopal churches in multiple capacities over the last 19 years. Currently, I serve as Rector (Pastor) at St. John's in the Mountains Episcopal Church in Stowe, VT. My partner and I purchased a seven guest room bed and breakfast in Waitsfield, VT. since 2018. It's called The Swanson Inn* (go figure)!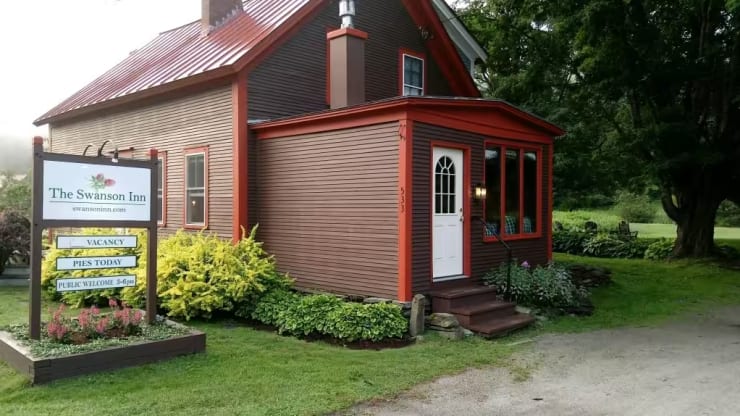 *(Editor's note - Having visited with my wife, I can attest that the inn and the breakfasts are outstanding!)
What hobbies, volunteer work, or special affiliations do you have now?
I am a budding wood worker and an avid recreational hockey player (organized pick-up hockey), playing twice a week or more, all year round. I also enjoy skiing, snowshoeing, canoeing and hiking. Tim and I have hiked The Long Trail or the "LT" as it's known in Vermont. It runs the length of the state of VT. along the Green Mountain ridge line, for 272 miles! We completed it in 24 days – 12.5 miles a day on average. We raised $11,500 to establish a scholarship for kids on the margins in our area in honor of my partner's fiftieth birthday.
Final thoughts on the sport…
Do you have a special memory from skating you'd like to share?
It was mid-November time trials in Butte, MT. so it must have been about the fall of 1990, and it was one of those foggy days where you couldn't even see the mountains on the east side of the track. I was coasting on my skates taking a break, and it was one of those mornings when there was absolutely no wind and fog was all around me. I happened to look up, and there was this opening in the clouds and completely blue sky above. Right in the middle of the opening there was a "V" formation of snow white geese flying directly above me. That was the exact moment I knew what heaven was like! I will always recall this as a perfect moment, one of perfect bliss and clarity. If there is a heaven, I hope that is what it is like!
One thing you could change about your skating days if you could?
Hmmm. Have to think about that… It's a good question, and I don't know exactly how to answer that. Skating dominated my life so heavily in the 1980s and spilling over in the '90s and early 2000s it's easy to immortalize it. I didn't make the Olympics and sometimes I feel like I was a college athlete who never made it to the pros. If anything, it's probably that I would have liked to have more self-confidence. I think I have more of that now, not only in my overall athletic ability, but in all of life. I'm also more honest about my abilities. I think I would have liked to have more drive in skating. I also learned, once I retired, the value of humility. I was cocky from time to time as an athlete, and I wish I learned a bit more about humility back then. My role of a priest is to listen more than speak. It takes humility to put myself and my thoughts aside and truly listen to God and others. Before I say anything, I have to listen first.
Maybe I needed to listen more to my coaches back then! Everyday demands, and begins, with humility. I'm not God, (thank God). In my experience the more humility, the greater the success. When I was young and in the sport, I'm not sure I could name that, let alone live it.
Any special wishes/comments regarding the direction of the sport today?
When I was skating, there was little to no place for an openly gay athlete or athletes of color. My continued hope is that all of today's athletes are welcome to fully participate in US Speedskating, for who they are both on and off the ice. I have seen this growth in USS from the outside looking in and I am proud of the sport for having come a long way.
Good points Rick and fantastic memories - thanks for your time. Keep up the great work out there!