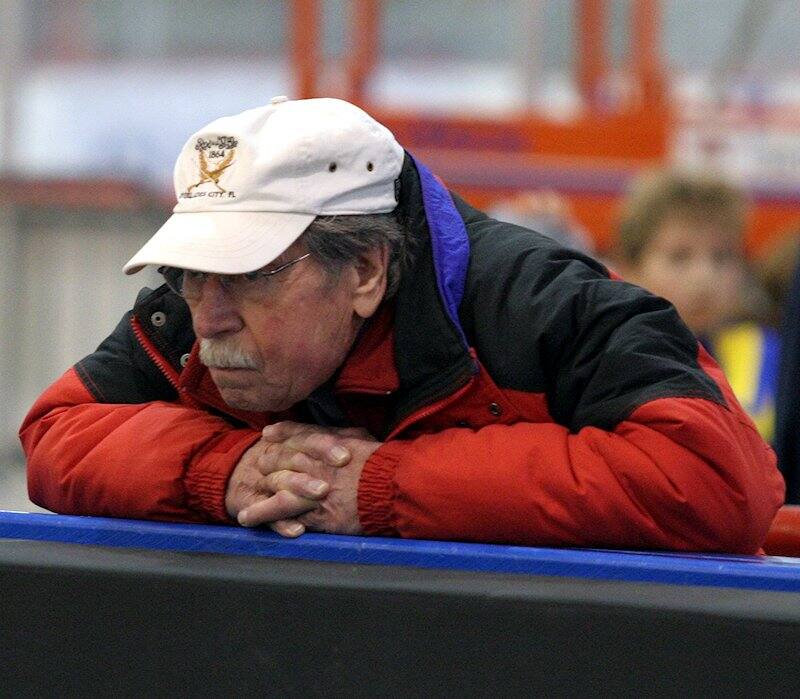 While watching his son and daughter speed skate, in the 1950's, Lyle analyzed skating motion and formulated ideas about how to make their effort more efficient. Al Zirkel, head of the West Allis Speed Skating Club noticed his interest and made Lyle coach, He coached the club over 20 years (on and off) and kept coaching until his 90th birthday approximately 55-60 years.
Some of the speed skaters he coached won Olympic medals including Dan Jansen, Casey Fitzrandolph, and Terry McDermott. His son Wayne was the first American athlete to compete in the winter and summer Olympics in the same year (1968). He also coached Olympians Sally Blatchford, Angela Zuckerman, Mike Woods, and Diane Holum.
Lyle was a master ice maker. This skill was used by the USISA to foster international events in West Allis, WI., Keystone, CO., Butte, MO, and Lake Placid, NY. Lyle was a trouble shooters for situations which other ice makers could not solve. He made ice in impossible situations.
In the 50's Lyle invented a jump board in which the skater jumped from side to side, thus simulating skating. Wayne skated a prototype roller blade that Lyle had developed.
Lyle partnered with Jerry Garbe (manager) at the Olympic rink as ice maker and caretaker of the equipment at the rink, including the Zamboni and compressors. Lyle also maintained the ice at the new indoor Olympic rink. Before he stopped working at the new rink, he mentored and trained Jim Gulzinski as the ice maker and care taker of the new rink. Lyle and his wife, Marion, lodged, fed and transported many speed skaters including Terry McDermott, Dick Hunt, Stan Fail, and Sally and Holly Blatchford. Lyle was inducted into the National Speedskating Hall of Fame on May 30, 2014 in Milwaukee, WI.
http://speedskatingmuseum.org/wp/lyle-lelombard/